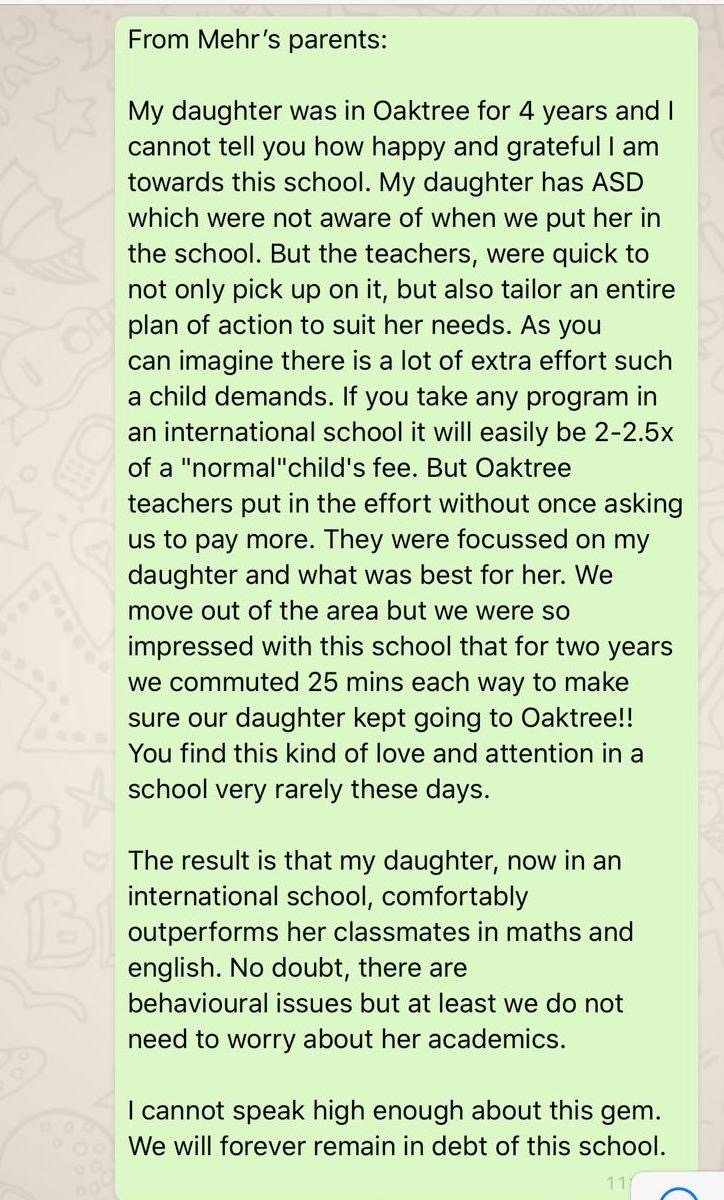 AUG 2017
Congratulations to our former student Ms Cheri Wee on being awarded the President Scholarship 2017. The teachers from Oak Tree are very proud of her and we share her joy as she received her award from President Tony Tan. 
Ms Cheri Wee joined The Oak Tree Enrichment Centre when she was 2 plus (2000 to 2004). Mrs Wee, mother of Cheri, has told us that Oak Tree had given Cheri different kinds of exposure apart from academic subjects when she was with us throughout!
It has been said that optimizing the early years of children's lives is perhaps the best investment parents can make in ensuring their future success. We believe that giving quality holistic education to children during their early years is therefore extremely important.
We want to wish Ms Cheri Wee all the best for her future endeavours!
------
Darlene entered Oaktree in mid September 2015, during the last term of K1. At that time she had not mastered phonics and had a very vague concept of maths beyond the number 10.  Chinese was a weak subject as the previous center she came from had staffing issues for Chinese teachers.
We signed Darlene up for the half day programme, as well as for a weekly English lesson to help boost her up to speed in her phonics and reading.
Darlene started out being quite shy and reserved as she was slower than her peers.  She also lacked confidence.
Ms Wong and her teachers in Oaktree are very dedicated.  We could see the difference in the teaching style as compared to other centres we had sent our older children to.  Firstly, they believed that every child has the ability to learn and excel.  They build on the concept of progressive learning, grouping children according to their abilities rather than age group.  This creates a more conducive learning environment as each child can progress and learn at a comfortable pace.  
Although Darlene came into Oaktree behind children of her age, she was able to catch up at her pace rather than having to struggle.  Ms Wong also went beyond her call of duty.  Some days, she gave Darlene extra lessons after the morning session to help her clarify and strengthen her maths concept.
It's been 6 months since Darlene had joined Oaktree.  Now she has the confident to read simple books and she enjoys doing addition and subtractions and would often request we let her do maths questions at home.   She also proudly recites Chinese poetry with much flair.  We also received feedback from Ms Wong that she is doing well in class and could follow the pace of her peers.  She is now confident, have made new friends in Oaktree and is an obedient girl.
Thank you Ms Wong and teachers from Oaktree for making a difference in Darlene's life and ours too!
MR & MRS WONG, PARENTS OF DARLENE
My two sons Chong Chi Sum and Chong Chi Weng attended classes at The Oaktree Enrichment Centre from the age of 3 to the age of 12. Both of them had a memorable time there. The learning experience was simultaneously educational and enjoyable.
The teachers of Oaktree are the real gems of the centre. They are professional in their teaching yet personal in their approach. They were able to accurately assess each child's needs, and then stretch the child's ability or supported and encouraged the child depending on the needs of each. 
Chi Weng just completed his PSLE. Over the past few years, individual lessons were specially organised for him because he could not attend the group lessons. Replacement lessons were arranged whenever he missed his lessons. Additional attention was given to his areas of weakness. It was truly an exceptional learning experience. Chi Weng certainly benefitted from this nurturing environment and this personalized teaching cum care over the past few years.
I am sure that my sons would not have been able to achieve their desired PSLE results if not for the teachers and the program at The Oaktree Enrichment Centre.
MRS CHONG, mother of Chi Sum and Chi Weng
My 3 children are attending The Oak Tree Enrichment Centre. My oldest boy started Playclub in K1 and now, in Primary 1, he continues with The Oak Tree's afternoon enrichment sessions. My second and third children are currently attending the Playclub sessions in the morning. My youngest started the Playclub session when he was 2.5 years old. 

I am very pleased with the individual development of each of my children at The Oak Tree. I am impressed by the dedication of the teachers at The Oak Tree. The Oak Tree teachers take great care to understand the learning and social development of each individual child. I get regular updates from the teachers so the two-way communication channel is very open and comfortable.  

I watched my oldest, Ryan, develop confidence at The Oak Tree and now, in Primary 1, he is happy as he has adjusted very well. Rebecca feels comfortable in the Playclub environment and she is now gaining confidence in her reading and writing skills. Russell, the youngest, is quite playful, but I can see that the teachers at The Oak Tree are patient with him, teaching him the recognition of letter and social skills such as interaction with other children.
MRS YU, mother of RYAN, REBECCA and RUSSELL
Since attending Oak Tree, Leia grows and matures. The Oak Tree Programme has helped in equipping her with the knowledge she needs for P1. She has definitely become wiser and more knowledgeable and  aware of the things happening around her. Leia has become more inquisitive and reflects very much on things she picks up in Oak Tree. 
MRS CELESTE WONG, parent of LEIA
Christine has improved from sounding out the letters in the alphabet. She can rnow read simple words and sentences. At K1 now, she is learning grammar. Initially, I was worried for Christine because she seemed not to be interested in doing work. But after a year, I can see that she is more focused (although she still needs to be reminded). Sometimes, she even asks me if I have work for her to do at home. The teachers are patient, and I don't see the 'fed-up' look on the teachers when the children are testing their patience (which I see in some centres).
MRS RINA WONG, parent of CHRISTINE
We are actually in a specific situation. We arrived 2 years ago in Singapore, coming form France. Both Amicie and Grigoire were not speaking English at all. Our idea for them to attend classes at the Oak Tree was not to make them progress specifically in English or Maths but more to be able to express in English knowledge they would have in French. With Oak Tree, their progress has been phenomenal. They have not only acquired a lot at the language level but have also gain great confidence. They can now speak, count and read in English quite with ease . On top of this, all these progress have been made without us being much involved. Much congratulations for the quality of your teachings. We are extremely satisfied.
MR GUILLAUME, Parent of GRIGOIRE and AMICIE
I have sent all my three children, Clarice, Caithlyn, amd Caius to Oak Tree Enrichment Centre. Such is the strong endorsement I give to this school. It's the dedication, care, and attention of the teachers there that most impress me. My children's speech, reading, math and social skills have improved dramatically under their guidance and teaching, They have made many friends and enjoy attending Oak Tree very much. The Playclub program prepares my children well for primary formal education. My girls go into P1 well ahead of their peers. I strongly recommend Oak Tree to any parent. 
Mr CHIN, father of CLARICE, CAITHLYN AND CAIUS
We are pleased with the unparalleled commitment that the Oak Tree teachers have on my children. 12 years ago, my son was with Oak Tree.  Today, even after moving to Upper Thomson, we send his youngest sister to Oak Tree. We are delighted that she is receiving that same level of excellent devotion. Thank you Oak tree teachers, 
MRS LAURA CHAN,  mother of SHANNON  
At the Oak Tree Enrichment Centre, the Playclub programme is very nurturing and inspirational for the little children. They acquire character, confidence and reading skills, which prepare them well for the coming formal school years ahead. The learning environment thre is fun and friendly with caring and committed teachers. My two grandchildren went through their various programmes and are presently top scorers in an elite school with one of them in the Gifted Education Programme. Thanks to the teachers at the Centre for their selfless effort in helping towards my grandchildren's wholesome development in the early years. 
Madam EUNICE WONG
Kirsten joined the Playclub at the age of 2 years old, and has been attending The Oak Tree Enrichment Centre for almost 2 years. We have been consistently impressed with the good teacher-student ratio, as well as the teaching methods employed at Oak Tree. We like the fact that Oak Tree promotes interaction between children of different ages, by having them gather together for Circle Time, and for social activities. This encourages the older children to take on a pro-active role in teaching the younger ones, while the younger ones have a role model to look up to and learn social skills from. In fact, we believe that this unique feature allowed Kirsten to get over her separation anxiety and integrate into the classroom environment within a week of starting Playclub.
The teachers at Oak Tree are warm and welcoming, and show a genuine interest in the well-being of the children. This is evident from the personalised worksheets that they prepare, which are catered to the different stages that each child may be at. We have never felt the need to specially meet up with the teachers for a "Meet the Teachers" session, simply because we receive regular updates on Kirsten's progress at school. Often, we have noticed the teachers making a conscious effort to speak with parents after class, to apprise parents of their child's progress and identify any areas of weaknesses. 
Kirsten regards Oak Tree as her second home, and it is easy to see why. Kirsten has formed excellent friendships with her schoolmates, and enjoys the nurturing guidance of her teachers. We would recommend Oak Tree wholeheartedly to all parents who desire a well-rounded and holistic education for their children. In fact, we know that we will certainly send our younger daughter to Oak Tree once she turns two."
VOON JIET AND CHARLENE CHIA, Parents of KIRSTEN
Our daughter, Isabelle has been with the Playclub at Oak Tree Enrichment Centre since N1 and she really enjoys attending school there. As parents, we were particularly impressed when she started reading and writing independently at three and a half years old through their phonics programme. And with this great headstart, we feel it has helped to develop her confidence in many other areas, both academic and non-academic.
What stands out at Oak Tree are the very caring and dedicated teachers. The teachers know and understand each child very well and try to cater to each individual's learning style. It is obvious that the teachers try to help the children under their care to achieve their potential. We also appreciate the regular feedback and invaluable advice from the teachers. 
We like Oak Tree's holistic programme which includes weekly show-and-tell, science experiments (which Isabelle always enjoys and comes back to tell us about), art and craft and exercise sessions. The variety and content of the activities keep the children interested and entertained, and at the same time, they cater to the various aspects of a child's development such as public speaking, developing certain motor skills, etc. The thematic approach has been very successful in imparting Isabelle with a great deal of general knowledge as I was recently surprised by her ability to regale me with the various parts of a flower such as the stamen, anther, style, etc when we picked up a Spider Lily along the road.
Isabelle always speaks fondly of her teachers at Oak Tree and we believe that it is in such a nurturing environment that she has blossomed over the years. She has definitely benefited from the programme at Oak Tree and we feel that Oak Tree has provided her with a strong foundation to build on.
CAROLYN TONG & CHRISTOPHER CHONG, Parents of ISABELLE AERYN CHONG 
Kayle joined the Playclub programme at Oak Tree when she was two and a half years old. The class size is small and Kayle learns at her own pace using a structured and rigorous curriculum. I believe this has given her a solid foundation in her reading, writing and mathematical skills.  By three and a half, she was able to read and write quite well and she learned advanced Maths in K1.  
Dedicated and nurturing, the teachers are consistent and positive in reinforcement and discipline. They are genuinely committed to instill in the children good character, self-confidence as well as respect for others.  Kayle has acquired a positive learning attitude and really enjoys going to school every day. I feel she is very well prepared academically and socially for primary school and I am grateful to the teachers for a doing such a great job!  
Mdm CHAN SIONG YU, mother of KAYLE CHOO  
Oaktree's teachers are knowledgable of my son's strengths and areas he needed to work on. They thoroughly prepared him for primary school. Ian could put sounds together to form words and read simple books when he was at the age of 4. I would pick this school all over again!
Mrs CHENG, mother of IAN CHENG  
My daughter, Joyce, has been with The Oak Tree for about 2 years and I can see that she enjoys attending the classes. The lessons here are very relevant and has helped Joyce cope well in school.  She has improved in her compositions and has shown a greater interest in Mathematics since I signed her up last year.  I am happy with the results and I would like to thank the teachers at The Oak Tree for making the difference! 
Mrs LEE, mother of JOYCE LEE (P2)
I am pleased to pen down my wonderful experience with Oak Tree Enrichment Centre. My children, daughter in Secondary 1 and son in Secondary 4 have attended the centre's English enrichment program since they were four years old. They both benefited greatly from the Phonics classes and they were able to read a great variety of books at a very tender age. I have never to worry about their writing skills and grammars throughout their primary school days as they have built a very strong foundation through Oak Tree's class. Being strong and affluent in the language they can excel and have more time for other subjects. My daughter switched to Math Enrichment class in P6 conducted by Oak Tree as I realized from her P5 results that it was her weakest subject. Just few months into the class and I saw tremendous improvement in her math grades, she scored an aggregate of 270 in her PSLE. I would like to take this opportunity to thank all the teachers in Oak Tree for their commitment and dedication. My son still remembers and on occasion still talks about his experience with Oak Tree. I do hope that other parents will try out the centre's program and discover the difference it can make on your child. Thank you Oak Tree.
Best Regards,
Mrs YONG, mother of Li XUAN and JUN YUAN
My three children, Jerene, Jenna, and Jonas attended Playclub at Oak Tree during their pre-school years. The Playclub programme has indeed prepared my children very well for their primary school education. It is very strong academically and has laid the foundation for formal education. The Playclub programme has indeed enriched my three children. The teachers are competent and the children are well-disciplined. When Jerene and Jenna were in Primary school, they continued with Oak Tree for their enrichment classes. Jerene and Jenna have since graduated and they are now in Secondary school. Jonas is in Pri. 6 this year and is still attending enrichment class in Oak Tree. 
MRS GOH, mother of JERENE, JENNA and JONAS
My child started attending English classes at Oak Tree since pre-school.  Currently, He is in Primary 3 and he continues to attend the English and Math classes.   His academic grades has improved and he enjoys the lessons. The methods used at Oak Tree make learning easy for my child.  The Oak Tree has helped to prepare my child for his exams.  I appreciate very much all the effort put in by the experienced teachers at Oak Tree.  They are brilliant and they do a great job.  Thank you.  :) 
MRS LIN, Mother of KASEN LIN HONG YI
The Oak Tree Enrichment Centre has helped my child in his early development years,  motivated and prepared him for his primary education,  through their playclub programme. My son attends the enrichment classes now. The dedicated and caring teachers has helped greatly in the improving my son's grades in his weaker subjects. Keep up the good work!
MRS GOH, mother of JUN YI
Lynn joined Oak Tree Enrichment Centre Mathematics Class in November 2006 just before she started in Primary 1 in Raffles Girls' Primary School. Because her strength was not in numbers, my criteria for picking a Maths enrichment class was one that could provide a basic grounding in Mathematics to ensure that her foundation in the subject will be strong. After three years with Oak Tree, I am extremely pleased with her performance in the subject. Her interest in Mathematics has grown and naturally she excels in the subject. The teachers are dedicated and I receive constant feedback on her performance. Topics are taught ahead of school to give her a headstart and different levels of a topic provides her with exposure. I am also very pleased with the manner in which the centre prepares the child for examinations with intensive trials of mock examination papers. This generally prepares the child well for examinatiosn which I believe has attributed to her good performance in school Over the last three years, Lynn's confidence and interest in Mathematics has increased tremendously with the help of the teachers. 
HWEE HUANG ANG, Parent of Lynn
Elizabeth, my daughter used to be afraid of Maths. Since going to the Oak Tree Enrichment Centre, she has overcome her phobia and Maths has become her favourite subject. She enjoys the classes and concepts are well-taught. She always looks forward to the classes and she is comfortable with the teachers. She is doing very well in the subject.
Mrs ONG, mother of ELIZABETH
My son, Zachary, showed significant improvement in his Maths grades after joining Oak Tree. He has also shown a lot of interest in the subject. His teacher is encouraging.
Mrs CHAN, mother of ZACHARY
Natasha has certainly benefited from Oak Tree. She started the programme with the Centre in Primary 3(?). I can see the progress that she has made over these years. She had gained from the teaching methods and the dedication of her teacher. She achieved an A* for her PSLE Maths. I want to thank the teachers at Oak Tree for helping my daughter.
Mrs ADELE NAIR, mother of NATASHA
My child attends English enrichment classes at Oak Tree once a week. The teacher is "nice" and efficient. He joined Oak Tree at end of Nursery 2. My child is able to read simple books based on phonics, by mid K1. The programme is effective and paced according to the child's development. During the December holidays, I occupied my son by letting him join the Playclub with Enrichment. He enjoyed the programme very much. To him, it was fun.
Mrs GOH, mother of LIONEL GOH
My son, Samuel Poon, has been attending Oak Tree for the past two years. Over the years, he has improved in his ability to focus in his work and academic skills. I am grateful that the teachers are very helpful and patient with him. The students are very well behaved in the centre and I attribute that to the dedicated and experienced teachers. Thank you.
Mrs POON, mother of SAMUEL POON
I like the programme at Oak Tree. It is very comprehensive and the Centre prepares my older child very well for her formal education. The teachers are very committed and responsible. They are also approachable and helpful. Each time when I wanted to find out about my child's progress, they are always there to update me. When I needed advice on understanding my child's development, they are knowledgeable and they offer valuable advice to me. The teachers and I are like friends. Now, my younger child is attending Oak Tree.
Mrs PHUA, mother of OLIVIA and ZANDER PHUA
I am pleased to write a warm recommendation on the programmes offered by the Oak Tree Enrichment Centre.  My children, Sarah (now in Pri 4) and Jonathan (Pri 1) completed their pre-primary education with Oak Tree, both having started when they were slightly over 2.  Sending them to Oak Tree has meant that I have been able to leave academic matters almost entirely in the hands of the capable teachers. I hardly have to lift a finger to teach them myself.  They apply the Montessori method with impressive effectiveness and truly tailor each child's education to their individual learning ability.  Sarah and Jonathan were very well prepared for Primary One in English and Math, and more than that, I like the emphasis that the school places on character development and on cultivating the virtues of discipline, concentration and independence.  Since starting primary school, both of them have also been attending the enrichment classes at Oak Tree (Sarah in Math and Jonathan in Math & English) and the weekly practice that these provide is valuable in ensuring that they are consistently stretched and challenged with work that goes beyond what the school teaches.
Mrs ANG, Mother of SARAH and JONATHAN
My two children, who are in K1 and K2, gained a lot from being exposed to general knowledge and science even in Playclub. It is a joy to see my children being able to read at a young age. They could even write creatively at a young age. Because they have a strong foundation in phonics, they can spell very well. The mathematics programme helps them to be able to handle Primary One questions at the age of 5. The teachers explain mathematics concepts in a simple way. My children are able to add and subtract with big numbers.  I compare my children with those of my friends. My kids have benefited a lot more being at Oak Tree. I have recommended Oak Tree to my friends and their children are attending the enrichment programmes. They have very good feedback about Oak Tree. They are very happy with their children's progress.
Mrs TAN, mother of PHOEBE and JING-YUAN 
I am glad that my child who is in P2 has been well prepared to handle school English test papers. Oak Tree grounds the children in grammar rules, strong vocabulary and other components like cloze passages and comprehension passages. My daughter has benefitted from the programme. My daughter is also exposed to different types of creative writing at Oak Tree. Her school teacher in Raffles Girls' Primary School has commented that her writing is creative. 
Mrs SIM, mother of LAURENE
We are thrilled about having Leonard and Lecia to attend classes at Oak Tree Enrichment Centre. Perhaps the most significant 2 factors in our decision were the small class sizes and the quality of teachers at Oak Tree. Besides receiving a quality education, they are fortunate to be taught by teachers who care about their development as a person. Our children are given close attention whilst being challenged to realize their potential. They genuinely want each child to achieve their very best. We don't think we can find the same level of concern at any other school. As parents, that's very reassuring.
WENDY and LUCAS,  Parents of LEONARD and LECIA.
We would like to express our heartfelt thanks to all the teachers at The Oak Tree Enrichment Centre. Both our daughters Esyn (9 years old) and Cherlyn (8 years old) enjoy their mathematics lessons at Oak Tree. They told us that the teachers at Oak Tree are patient and caring, taking time to explain when they do not understand certain concepts. Though our daughters are slightly above average, they were not very confident in solving some challenging math sums and were confused with the modal system. We noticed that after attending lessons for a few months, there was a significant improvement and most importantly they enjoy mathematics and show more confidence in handling challenging questions.
JESSAMINE, mother of ESYN and CHERLYN 
My son has been at Oak Tree for the past 2 years. We could see tremendous improvement in various areas of his development, not just on academics but also social skills. The teachers have been patient and dedicated towards him even though the lessons are delivered in a group. We would not hesitate to recommend the programmes to our friends.
Mrs WANG, parent of TIMOTHY
My eldest has gone through 7 years and my second is in his fourth year at Oak Tree. I believe that Oak Tree lays a good foundation in Mathematics and Phonics and I enrolled my children once they hit Kindergarten 2. My youngest child is beginning to read too. I must admit I really endorse Oak Tree's enrichment and would strongly encourage parents to discover for themselves how Oak Tree is different from other enrichment centres. I like Oak Tree for several reasons. One, the teachers know their stuff and know how to teach. Two, I like Oak Tree's choice of materials except I think they can improve on their print and more space should be given for the students to do their calculations. Third, I appreciate the fact that the teachers know the students well and keep parents in the loop on how and what can be done to further improve on their children's learning. The teachers are very committed and I know my children are in good hands under their guidance. They are also very understanding and helpful when it comes to arranging for make-up classes. The teachers are very experienced and patient and I believe the children like the little treats dished out to them. Yes, if the timetable permits, Oak Tree is an excellent choice.
Mrs Jeannie TAN, Parent of JUSTIN and JILLIAN
 My daughter, Cateline, 10, has been attending Oak Tree Maths Enrichment since she was in Primary 2. I would definitely recommend Oak Tree to other parents. Her teacher has been fantastic and she is always patient when explaining concepts to the children.
Jacqueline KHOO, mother of CATELINE